Heavy Duty Parts and Repair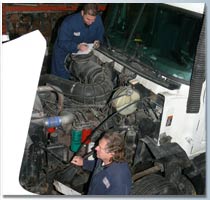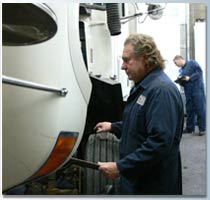 At Barak Logistics, we understand that keeping your equipment running in top condition is critical to your bottom line. As such, it would be unwise to trust your bottom line to just any repair facility. With our dedicated repair and maintenance service, you don't have to.
Our shop serves to compliment the full-service heavy duty repair and maintenance needs of today's trucking businesses, including our own. Operating an in-house service facility, we understand that keeping your equipment running in optimal condition is one of the keys to your business success. Our extensively-trained, highly-skilled, certified service technicians also know how important your truck's performance is, and they are ready to put their technical expertise and premium parts to work to get you on the road... and keep you there.
Our list of in-house diagnostic and repair services available include (but are not limited to):
Air conditioning, heating and climate control systems
Brake systems
Clutch component and assemblies
Electrical systems
Annual Inspections and Safeties
Emission control systems (including Clean-Air Emissions Testing)
Engine cooling systems
Engine performance and systems
Exhaust systems
Fuel systems
Body work
Steering/suspension systems, wheel bearings and drive shafts
Tire installation and sales
Reefer repairs and maintenance
Mobile repair and Roadside assistance

In addition to providing on-site mobile fleet services, our professional service team can recommend a custom preventive maintenance program that is right for your specific equipment's needs, thereby saving you both time and money in the long run.
Ready to make sure your equipment receives the best possible maintenance and repair support available? BARAK IS @ YOUR SERVICE.